Past few years witness immense rise in the establishment of Immuno-Oncology (I/O) focused drug development startups worldwide opening enormous partnering opportunities but at present their is no authentic source/method to map these emerging startups.
I/O Startups Report for the first time identifies and profiles Top 400 Active Immuno-Oncology Startup companies from 24 different countries worldwide, developing 581 oncology targeting drugs; established between 2010 – 2019; with individual market valuation less than $500 Mn USD.
To bring this massive report on table Industry experts for the first time analyzed nearly 650 I/O Startups established during this period and filtered Active 400 drug developers, based on their technology, management capabilities and current funding capacity to further carry out drug development research.
For Further Details Kindly Visit :- https://omicsx.com/reports/cancer/immuno-oncology-startups-2020/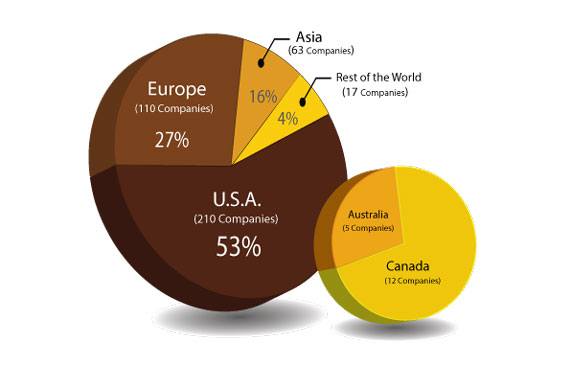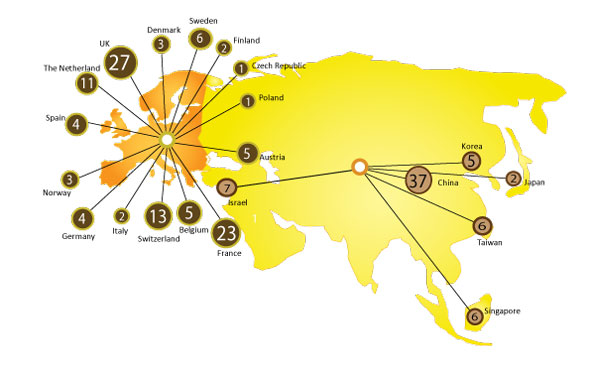 Key Highlights of the Report:
– Startups Focused – Highly innovative, first of its type, which includes only Immuno-Oncology Startups Developing – Immune Checkpoint Modulators; Cellular Immunotherapies; Oncolytic Viruses based Therapeutics, Peptide Vaccines, Bispecific T Cell Engagers and Monoclonal Antibodies targeting cancer.
– Technology / Drug Pipeline – Details on Individual Startup's proprietary Technologies with its Active Cancer Pipeline and University / Institutes Collaborations.
– Provides details on 581 early stage noble I/O molecules available for bio-partnering, with targets and mechanism of action.
– Strategic Moves & Advantages– Quickly Identify the key strategic moves a startup is taking to be more innovative, also identify its strategic advantages, that will boost its growth going forward.
– Venture Funding / Partnering – Monitor Individual Startup's Various Funding Rounds (Private / Govt. ). Its current Partnering Status with CROs / Research Institutes / Big Pharma.
– Report covers over 700+ I/O exclusive partnering deals and funding round details of 400 companies, since their incorporation
– Provides several Intelligence pointers like – Top I/O Drug Developers capable of changing oncology research going forward. Big Pharma investments and partnering with I/O startups, along-with Key Venture Investors and their portfolio companies in this domain.
Urgent Need of the Report:
Filter Authentic Data: Last few years added maximum number of newcos in Immuno-Oncology drug discovery this added an urgent need to filter serious from non-serious one.
Higher Collaboration to aid drug development process: Immuno-Oncology drug discovery is evolving and requires timely strong support and inputs across the channel.
Well-funded I/O domain, thus offers immense partnering opportunities; but lacks proper system to track emerging opportunities.
Currently available resources cover only limited number of known companies that too developing late stage clinical molecules. But real challenge lies in timely identifying the future shining star.
Virtually no system to track, Startups outside U.S and China, which contributes to 30% of total established startups in I/O domain.
Reasons to Buy
Largest, single source collection of early stage I/O pipeline; which otherwise is very difficult to identify and map for emerging companies.
Report provides you with the holistic view on latest technology advances in I/O and emerging clinical trial combinations in I/O Space.
All Top 400 companies are profiled in form of mini-reports and includes, all their I/O focused major business deals, funding, proprietary technol­ogies and drug updates, since incorporation.
Report is Gold mine in organizing your sales and marketing efforts by identifying new leads and better positioning existing startups based on latest updated knowledge on their upcoming projects and current funding status. It also provides LinkedIn & e-mail IDs of key decision makers (CXOs) of all startups; making things further smoother.
Every piece of intelligence is cross validated. Startups having proper funding, technologies and pipeline are only included. No Acquired, Merged or Dormant Stage I/O Drug Developer is included.
Designed by Industry Experts, who exclusively tracks bio-startups and publish exclusively in this domain.
This highly precise 334 pages Report is designed keeping in mind to keep information intact, informative and self-explanatory. Also, every piece of intelligence is cross validated. It will help you in identifying the present and near-term future of I/O Drug Discovery and development making it a must buy.
For Purchase & Further Support Kindly Visit :- https://omicsx.com/reports/cancer/immuno-oncology-startups-2020/